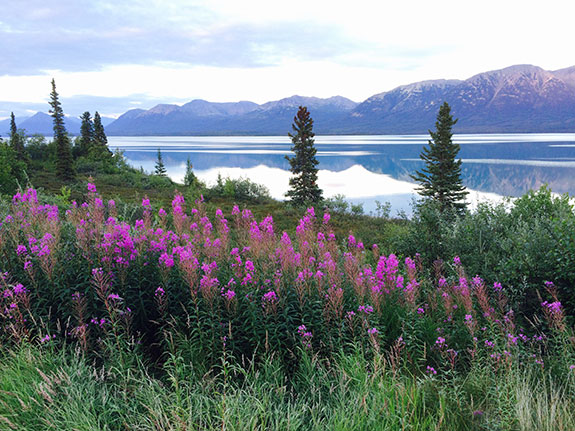 The Lake Clark Area
The 4 million acre Lake Clark National Park is one of the least visited in the National Park Service, averaging just over 5,000 visitors per year.



Click Here for Photo Gallery and Slideshow

The 40 mile long and 5 mile wide Lake Clark has been called "the essence of Alaska", for it concentrates in a relatively small area of the Alaska Peninsula, approximately 170 miles Southwest of Anchorage, a variety of features not found together in any of the other Alaska Parks: the junction of three mountain ranges, (the Alaska Range from the North, the Aleutian Range from the South, and the park's own rugged Chigmit Mountains), two active volcanoes (Iliamna and Redoubt), a coastline with rainforests on the East (similar to South East Alaska), a plateau with tundra on the West (similar to Arctic Alaska), turquoise lakes, and abundance of wildlife, hundreds of waterfalls, and dramatic scenery.

Lake Clark is located in a remote and mainly undeveloped section of Alaska. No roads lead to Keyes Point and it can only be reached by float plane or wheel plane. Many property owners at Lake Clark fly their own wheel or floatplane (or both). This provides them with very flexible access to their property as well as an easy means to explore the Lake Clark area.

There are several commercial flight operators that provide air service to Keyes Point including Lake Clark Air, Lake and Pen Air and Iliamna Air Taxi. Transportation to Keyes Point via Air Taxi typically costs around $225 person. Several of the Air Taxi operators provide grocery and supply services. Customers may call in or email in grocery or supply orders, the Air Taxi company will shop for the groceries and supplies then deliver the goods to Keyes Point.

The documentary film about Dick Proenneke "Alone in the Wilderness" (2003) is set in what is now the park. Most of the film was taken in 1968 and shows the Twin Lakes portion of the park which is just a few miles from Lake Clark. We highly recommend purchasing and watching the movie, it is truly amazing. You can watch a clip of the movie here.

Other attractions in the Lake Clark Area:
Valley of 10,000 Smokes
Brooks Falls and Katmai
Mount Redoubt Volcano
St Augustine Volcano
Mount Iliamna Volcano
National Park Service "Things To Do"