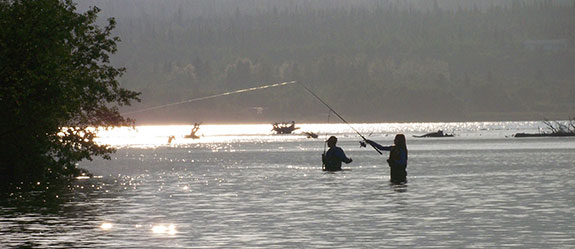 Fishing Lake Clark

Click Here for Photo Gallery and Slideshow

Lake Clark is the largest of Lake Clark National Parks many glacier lakes and is one of the most important spawning grounds for the world's largest run of sockeye salmon (red salmon) in North America. The Park Service has counted Red Salmon runs into Lake Clark for many years, there are nearly 400,000 Red "Sockeye" Salmon migrating to Lake Clark annually!

The Lake Clark area features an abundance of fishing opportunities. Most mountain lakes and streams nestled among the jagged spires of the Alaska Range contain a combination of Arctic Char, Burbot, Arctic Grayling, Dolly Varden, Lake Trout, Rainbow Trout, Northern Pike, and all five species of pacific salmon (King Salmon, Silver Salmon, Red Salmon, Pink Salmon and Dog Salmon). Most area lakes and streams are easily accessible via day trip outings from Keyes Point at Lake Clark.